At the SeedSpark Technical Support Desk, we receive hundreds of calls each week to help handle a wide range of technology issues. While we are always ready to tackle any questions that you may have, there are a few simple tricks that you can call before contacting your technical support provider to help you get back up and running as quickly and efficiently as possible! The next time a technical issue arises, try following these tips - you might save yourself time and money!
---
Reboot Your Machine
"Have you tried turning it off and on again?" If an application starts acting up or your computer starts running slowly, go ahead and reboot your computer. Consider rebooting as a chance for your machine to forget everything that's troubling it, giving it a chance to regroup and get its act together. Recent patches or updates might not take effect until you restart your computer. So, if you think that your machine might need a reboot, it's a good idea to do so.
Logging off and on is different from rebooting!
When you log off of your machine, you're simply signing out of the system so that someone else can sign in. To achieve a full restart, you'll either need to shut down the machine or restart it completely.
The monitor and the computer aren't the same!
It's important to note that the power button on your monitor only turns off your screen without restarting the computer - think of these as two completely separate things! While it might seem like a part of the basics, it's simply something to keep in mind if you find yourself stumped when IT troubles strike.
General Terms to Keep in Mind
While there are plenty of common terms that you'll likely here thrown around in the world of tech on a day-to-day basis, some of these terms can often get confused with others that could lead to a delay in resolving your issues should a tech have to get involved. Let's cover some of the general ideas that you should keep in mind when working on a PC!
"Computer" and "CPU" aren't the same term.
The computer is your entire machine - memory, hard drives, case, and all. However, the central processing unit (CPU) is the main computer chip inside of the computer, most likely made by Intel or AMD. This is the heart of your computer, powering the processes behind what you see on your screen.
The desktop and recycling bin shouldn't be long-term storage for important files!
Where you save your file matters. For example, IT departments might only back up files located in certain folders, such as those on the network drive. In the case of the recycling bin, files might be automatically deleted forever if the only copy that exists is in what the computer considers to be the trash bin. Items uploaded in SharePoint or OneDrive are automatically backed up. But for those legacy files, having them in the wrong spot for too long could spell bad news.
There is a difference between the internet, your network connection, the intranet, and a specific website being down.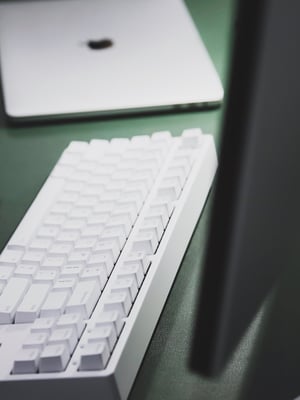 Losing your connection to the internet and the internet being down are different things. You can be connected to the network in your office without being connected to the internet. Even if you can access shared folders and internal websites, you might not be able to reach external sites like Google. In other cases, individual websites experience their own problems. It's best to check out a couple of websites in an effort to rule out a connection error or a single site being down.
There are different kinds of clicking.
When simply clicking on a button isn't accomplishing your goal or presenting you with the right menu, try a different mouse function such as right-click, double-click, or click-drag. If one doesn't work, try one of the other options for a greater chance of success.
Lock your computer when you walk away.
When you leave your computer behind without locking it, anyone can use it without a password. From there, they might copy (or delete) important files without your permission, install malware, or even send emails pretending to be you. Every time you leave your desk, you should lock your computer. On Windows, press the Windows Key + L or press Ctrl+Alt+Del. With the latter option, you are also given the opportunity to change your password, run the task manager, or log off.
---
While these tips just touch on some of the basics, they are all extremely important to keep in mind when beginning to branch out in the world of technology. Having this foundation of general knowledge is incredibly valuable in an age where technology is such a large part of our personal and professional lives, allowing us to meet, connect, and work together from anywhere in the world. By keeping these tips and tricks in mind, you're on track to handle the basics of working in the online world.