Microsoft Teams may primarily be known for its video calling and chatting, Shifts is a tool built directly into Microsoft's communication platform that allows hourly workers to easily track and manage their workweek while providing employers a simple platform a simple tool for office management.
What can Shifts in Microsoft Teams do?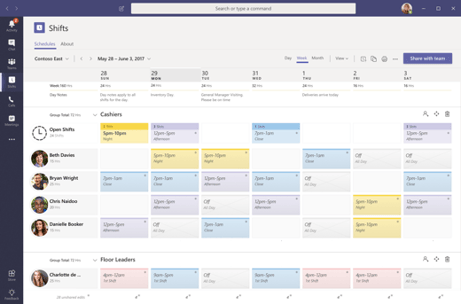 Schedule Your Week
Whether you're importing an existing schedule from an Excel spreadsheet or creating one from scratch, Shifts makes it easy to create a spreadsheet to organize your organization.
Organize Your Team
Creating Groups within Microsoft Teams allows managers to track specific departments and send messages, notifications, and updates to specific sections of your organization.
Update Your Team
Each day brings new possibilities. With Shifts, your team can easily stay up to date with the latest news from your organization and know what to expect when their shift begins.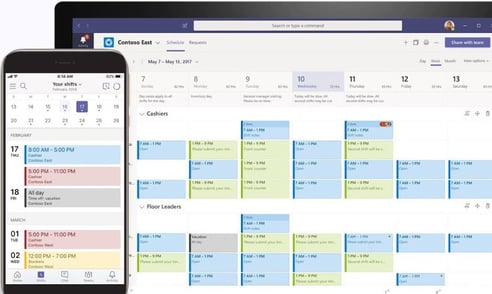 Break Down Your Workday
From front-of-house shifts to training sessions, Shifts allows you to assign times for each day's tasks, allowing every employee to get more done with your day.
Adjustments On the Fly
Managers can review time-off requests and teammates can swap shifts, streamlining the process of reworking schedules and ensuring that everyone is up to date and on time.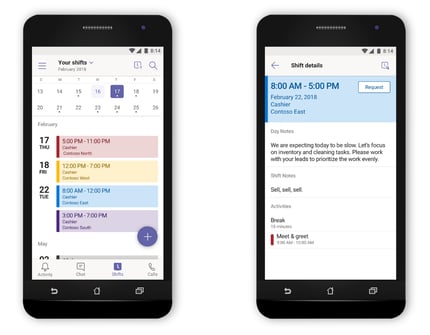 Simplify Time Tracking
With Shifts in Microsoft Teams, every mobile device becomes a digital punch card. Everyone on a team can download the Teams app and immediately access their schedule, communicate with their department, and enter time directly from their worksite.
Saving and Sharing
Once you've nailed down the details of your team's schedule, share it with the entire team through the simple push of a button. Any Shifts schedule can be exported, saved, and copied directly in Excel.
---
With Microsoft Teams, your entire organization is able to stay connected and on-time with help from the latest technology that ties your team together. Interested in implementing Microsoft Teams, but not sure where to begin? Our team at SeedSpark can help make it happen.