In today's modern marketplace, a company's online presence is one of their most valuable assets. Having a beautiful, fast, and engaging website is the firm handshake and strong eye contact of the online world, immediately building a lasting impression on your website visitors – aka your potential clients.
WordPress has been the SeedSpark Creative and Marketing Team's platform of choice for years. With a robust set of design tools and development features, WordPress provides the potential for nearly limitless creativity and versatility when our team begins building a client's site. Now, we're taking that relationship a step further – SeedSpark is now a WP Engine Partner.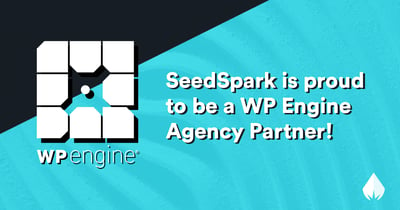 WP Engine is the key to digital excellence, providing a scalable platform that integrates robust tools, strong security, and deep analytics together to create the website hosting platform of the future. By combining the creation tools of WordPress with the reliability and security of WP Engine, SeedSpark is able to provide clients with industry-leading website development and hosting, all handled in-house by our team of designers, writers, and developers.
At SeedSpark, we are always searching for new ways to improve the work that we do and the products and services that we provide. As a WP Engine Partner, our team will be enhance our development process while continuing to improve the online presence of our clients and the experience of those that visit their sites (and ours) each and every day.