There are plenty of business productivity suites that promise to simplify the way that companies around the world work each day. With thousands of applications, identifying the option that is the best bet for your business can be quite the difficult task. While there are plenty of alternatives, the choice that most teams are presented with comes down to two options: Microsoft Office 365 and Google Workspace aka G Suite.
While both of these application collections share similar features, there are a few standout successes that Microsoft brings to the table that provide incredible value and enable users to accomplish their goals through the power of advanced technology and cutting-edge software solutions. Let's break down a few of the standout reasons that Microsoft's productivity suite takes the cake.
Ready when you are.
While Google Workspace provides web-based browser solutions for all of their productivity application, Microsoft provides users of their paid plans with desktop applications that provide an experience curated to your operating system to provide a reliable workspace - even without an internet connection. This provides limitless freedom to work anywhere, anytime. Once an internet connection is restored to your machine, the work you've completed automatically syncs to the version that exists in OneDrive or SharePoint, keeping all of your documents completely up to date.
Filled with features.
For decades, Microsoft has been the longstanding leader in the business productivity space. Applications like Word, Excel, and PowerPoint are stapes across organizations in a variety of industries. While Google Workspace provides a solid foundation for starters, the features provided in Microsoft's leading productivity platforms are second-to-none. With plenty of pre-made templates and widespread support for more file types, the work that millions around the world do each day is made simpler with files and projects that simply "work" - no hassle required.
Synergy across every application.
While Google's suite provides the ability to co-edit files directly in a web browser - something that Microsoft also offers in Office 365 - Google's storage solution doesn't come close to the deep compatibility that is baked into the very foundation of Microsoft's software family. Whether you're working in a web browser, collaborating directly within Microsoft Teams, or using desktop applications to get work done, saving, sharing, and accessing the most important files for your organization has never been easier
Communication 🤝 Collaboration
Google Meet and Microsoft Teams may seem similar on the surface, but the abilities housed within Microsoft Teams are setting the industry standard in a world where working remotely has become a major part of many companies across the world. Chat with individuals and groups, schedule meetings, hold video and audio calls, and share files that are stored in your company's cloud - all without leaving a single app. While Google Workspace offers a portion of the ability to share data stored in the cloud, Google hasn't been able to truly compete with Microsoft in terms of accessibility and UX design.
Comparing the prices.
While talking about the features and capabilities is an important part of any discussion about software investment, cost is something that is on the mind of every business leader. The pricing for both Google Suite and Microsoft Office 365 are similar overall, but there are a few distinct differences that set them apart.
Google Workspace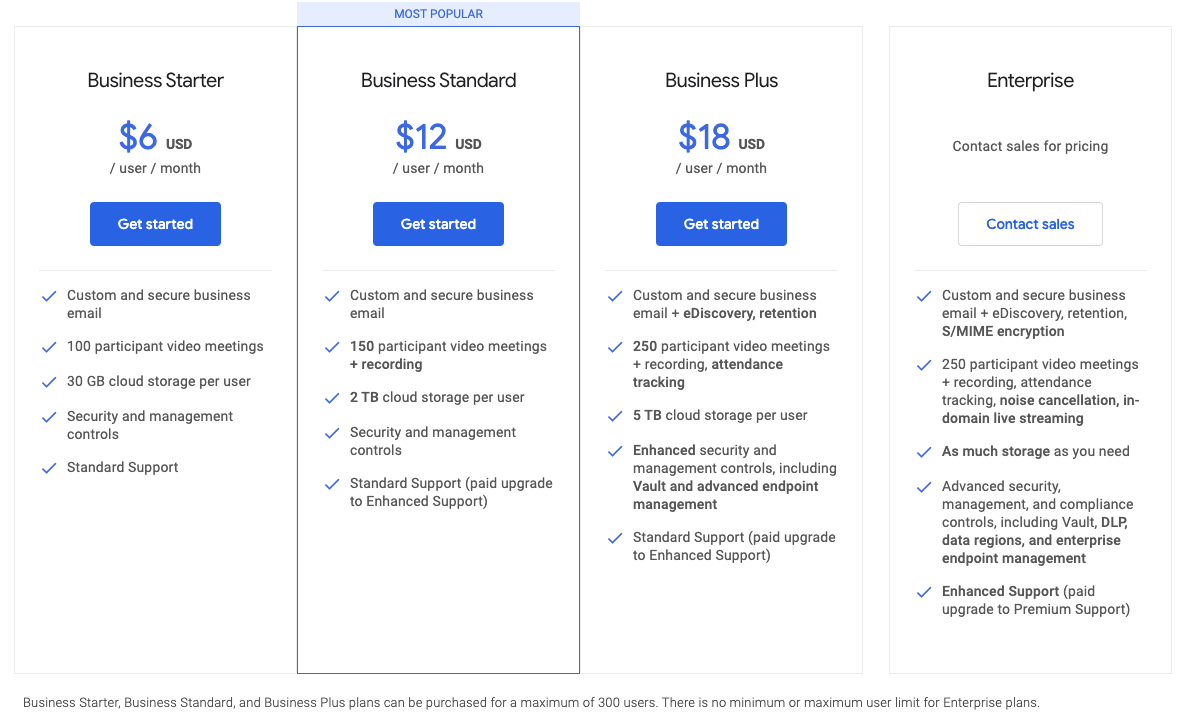 Microsoft Office 365
| | | |
| --- | --- | --- |
| Business Basic | $5 | Bundled together are email solutions, 1TB of OneDrive for Business storage, and web versions of Word, Excel, PowerPoint, and Outlook, without desktop apps. SharePoint and Microsoft Teams support are included. |
| 365 Apps | $8.25 | Gain access to desktop programs and a minimum of 1TB of OneDrive for Business storage per user. However, this does not include SharePoint or Microsoft Teams support. |
| Business Standard | $12.50 | Consider this a combination of the two previous plans packaged in with cloud features plus the latest Office desktop programs. All three Business plans are limited to 300 users per organization. |
| Business Premium | $20 | This plan includes all the desktop apps and cloud services in the Business Standard plan, with the addition of Office 365 Advanced Threat Protection. |
| 365 E1 | $10 | The entry-level Enterprise plan offers all the common cloud services along with a 50GB mailbox and 1TB of OneDrive for Business storage for each user. It also includes mobile and web apps, but does not include access to Microsoft's desktop apps. |
| 365 E2 | $20 | Gain access to the additional desktop applications with the addition of Office desktop programs. Maximum mailbox size increases to 100GB per user, and OneDrive storage is unlimited. |
| 365 E5 | $35 | At the top of the line, this plan includes all features and adds additional Office 365 Advanced Threat Protection and Office 365 Cloud App Security. It also supports the ability to integrate with traditional phone systems. |
While both Workspace/G Suite and Office 365 provide users with a fleet of amazing options to get work done, Microsoft provides a comprehensive solution that keeps each employee's workflow running and communication open across all departments.
For those interested in implementing Microsoft products throughout their entire organization, our team at SeedSpark specializes in launching your journey on the Transformation Continuum. We provide managed technology, custom software, and advanced marketing to create a comprehensive change across your entire organization and drive your business to new heights. Reach out to our team today to learn more about how to get started!