What do plumbers, painters, electricians, and general contractors have in common? All of them come together to help build the future of cities as they grow and expand – but with that expansion comes a lot of work. For small businesses that are struggling to keep track of their projects on pen and paper (or even an Excel spreadsheet), software helps connect your team and keep track of each day's projects to make sure that you stay on time and on budget, capturing data along the way.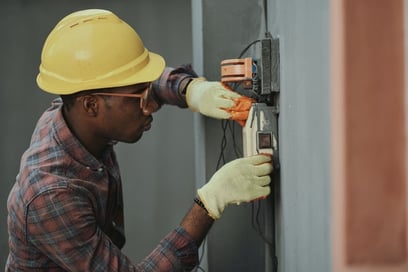 There are plenty of big-box solutions on the market today to help manage your business, but more often than not these programs handle one section of your business rather than the whole thing. This leaves you logging into multiple applications each day to get work done, wasting time and making it harder to find the information that you need to run your business. That's where Construct by SeedSpark comes in.
Construct by SeedSpark is a piece of custom software built by construction pros for construction pros, bundling together every tool that they need to connect with your team, manage your business, and get work done. So, what's the real difference that a custom application can make? We've got you covered.
---
Automate the Basics
We've all got them – small steps in our day-to-day tasks that come together to take up a lot of time. In fact, you may not even realize it. By taking time to understand your business and identify opportunities for improvement, custom software developers create tools designed to eliminate the small steps that can add up in a big way over time. Even if this means saving a few minutes here and there throughout the day, those minutes stack up to hours and hours turn into entire workdays – all saving you time and money.
Connect Your Team in the Office and the Field
Whether it's a worker in the office or a team member out in the field, staying connected and up to date on the latest news from a project, sharing information with your entire team is important for making sure that a project goes smoothly. While communications tools like Microsoft Teams are a great first step, syncing your data through the cloud and putting it in the hands of every employee through a shared web app helps everyone have the insights that they need to make the right decision. No more last-minute scrambling or stressful calls.
Easily Manage Inventory
Inventory management is one of the most important parts of any service team's business. Making sure that you've got the right tools and materials that you need to get a project to the finish line is a top priority, which means having updated inventory sheets is key. Custom applications make this easy, with cloud-based inventory management that can be updated manually or automated with a barcode system and scanner to let everyone know when stocks are getting low. When you're in a pinch in the field and have to run by a home improvement store to grab supplies, a user can just snap a picture of a receipt and attach it to an expense report to save it to the cloud for review. Keeping track of receipts is a thing of the past – just snap a picture and submit in seconds.
Top-Tier Security for Your Data
Tax documents, credit card information, social security numbers, receipts – data is at the heart of today's businesses. While it's important to get this info into the right hands, putting it into the hands of the wrong person can have devastating consequences. Construct by SeedSpark is connected to the cloud, using complete backups to ensure that your data is protected no matter what may be in store. From accidentally deleting a file to recovering lost data after a catastrophic event, the data that you depend on is never more than a few minutes away. We also manage all active users, only giving access to those who need it. When an employee leaves the company, we're able to quickly manage access and ensure that your data library is secure during the transition.
---
Unlike basic software that only accomplishes one goal or big-box solutions that are "one and done" services that don't receive support, custom applications are designed around your business and the way that your team works to support the work that you do. In short, it's all about you and building the right experience. With the right technology in place, it's easier to optimize your work, capture and store data, connect your team, and accomplish your goals. In other words: work smarter, not harder.
Are you interested in learning about a custom application for your business? Click here to contact our team today to learn more about Construct by SeedSpark and schedule a free demo to see how it works and learn what it can do for you!