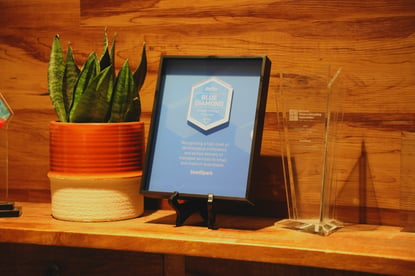 At SeedSpark, our team is constantly on the lookout for technology that helps push our customers forward and that never holds them back.
By partnering with Datto, the SeedSpark team is able to provide consistent, reliable proactive managed services – including cloud backups, business process optimization, remote network maintenance, and more – to those who depend on our technology in their everyday lives.
---
SeedSpark is happy to share that we are now Blue Diamond Partners with Datto for 2022. Our team achieved Blue Partner status in 2020, but have since continued to grow this partnership and earn our spot among the top 2% of the Datto partners worldwide.
As an award-winning MSP serving small- and medium-sized businesses across the United States, our Diamond Partner status reflects the expert care and attention to each client that SeedSpark delivers each day. By building relationships with our clients, understanding their challenges, and developing customized solutions, we're able to deliver the right technology for every need. As always, the SeedSpark team is thankful for every one of our clients that helps us grow and consistently reach new heights. We look forward to continuing to provide reliable services and paving the way in the MSP industry for many years to come.

---
About SeedSpark:
SeedSpark is a technology company focused on delivering reliable solutions that help small- and medium-sized businesses succeed. Through their IT expertise and a deep understanding of business, SeedSpark a holistic view of each client's organization to implement technology that meets today's needs and prepares their business for tomorrow. The company also provides custom application development, advanced digital marketing solutions, and website development services. Founded in Charlotte, NC in 2006, SeedSpark has been recognized as one of the fastest-growing IT service providers in the United States. To learn more or to join the SeedSpark team, visit seedspark.com.