For those that haven't heard the news, SeedSpark and Formstack are teaming up! Formstack's team has recently debuted an entire suite of Microsoft integrations, adding to their entire integration catalog spanning nearly every major tool, program, and platform being used in the modern world of business. As a leading Microsoft integrator, SeedSpark's team is always staying up to date on the latest and greatest tools coming from Redmond that are introducing new opportunities to automate process, optimize workflows, and build a better way to work.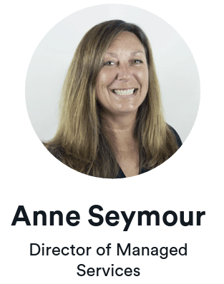 This week I sat down with Anne Seymour, SeedSpark's Director of Managed Services, to explore the incredible opportunities to improve not only the way that our team at SeedSpark works each week, but also how we can improve the way that our clients work to facilitate growth and expand their company into the future.
Anne has been working as one of the liaisons between Formstack and SeedSpark, connecting our teams, collaborating on opportunities, and exploring new ways that we can come together to make the most of the tools that are at our disposal and impact lives. I'll go ahead and turn it over to Anne to share more about each of Formstack's three pillars and how each portion of their product list is amplified by Microsoft integrations.
---
Faster Forms
As our team has dug into Formstack's line of services, Forms has quickly become the leading way that our team is able to simplify the way that we handle everything from small inquiries to large companywide initiatives. One of our latest implementations is through an Idea Generation form that is available for our entire team. Our goal is for each member of our team - in-office or remote, introverted or extroverted - to be able to share their ideas of what could make our team, our company, and our work better.
SeedSpark implemented a Formstack Form distributed to everyone in the company to collect their ideas for the future. Once this data has been shared and the submission is received, Power Automate allows the Formstack Form to integrate directly with a Microsoft Teams channel, Outlook email, OneDrive, and SharePoint. By Automating this process, we're taking away any potential for communication breakdown and connect ideas directly with planners and decision makers.
Formstack Forms ➡ SeedSpark Implementing Power Automate ➡ Easy, Simple Intake Forms
Decluttered Documents
SeedSpark has launched a new initiative with a client in the field of healthcare. An influx of patients at their small town practice has caused an overwhelming mountain of paperwork for their team, taking between 40 and 50 hours per week to create, review, and properly file away documentation for dozens of new patients. This practice needs a successful scalable solution that can grow as their company grows, cutting the time that it takes to handle paperwork without turning away new clients or sacrificing the quality of their service.
Formstack Documents has emerged as a perfect solution. SeedSpark works directly with their team to build a variety of HIPPA-compliant documents, integrating their Formstack Documents directly into their Microsoft SharePoint and OneDrive system. These Documents are also built with Formstack Sign in mind, streamlining the process even further. By combining these four elements together - Formstack Documents, Formstack Sign, Power Automate, and SeedSpark implementation - the client is able to free up multiple members of their staff, allowing them to focus less on busywork and more on other areas of the operation that need their attention.
Formstack Documents + Sign ➡ SeedSpark Implementing Power Automate ➡ Eliminating Paperwork
Simplified Signatures
With every new project that we undertake, there are client agreements that are shared, signed, and returned to the responsible parties. In recent years, digital document creation and signatures have become a much larger part of many industries. While these enhancements are already leaps and bounds beyond signing with pen and paper, there are still the steps of sending a document, monitoring for signatures, sharing copies with the proper parties, and filing the signed form away in the cloud.
SeedSpark has revitalized the process of obtaining client signatures through Formstack Documents. A client agreement is created and shared with the responsible parties, landing in their inbox and awaiting their signature. Signature reminders can be sent, documents can be retracted and revised, and every step is able to be monitored throughout the process. Each party can sign their agreement on any device, submitting and automatically sending the completed version back to the original sender. Once all signatures have been collected, a copy of the completed document is automatically emailed to all parties through email integrations and stored in Microsoft SharePoint and OneDrive through Power Automate integrations.
Formstack Sign + Documents ➡ SeedSpark Implementing Power Automate ➡ Streamlined Signature Process
Custom Solutions
While Formstack's new line of Microsoft Integrations is impressive, Formstack's capabilities go far beyond the limits of Microsoft's ecosystem. MailChimp, HubSpot, SalesForce, DropBox - Formstack's capabilities span nearly 300 third-party platforms and integrations that help connect technology that helps streamline processes and increase productivity.
SeedSpark's application development team has been working since 2006 to build tools shaped around the way that people work, learning their processes and listening to their needs to help drive their solution to success. While every Formstack client may not need an application with Microsoft capabilities, SeedSpark still has the solution. At our core, we're problem solvers - you've got a challenge, we have the means to find and implement a solution.
---
At the core of our partnership is a common goal: SeedSpark and Formstack are both striving to build a better way to work. No matter your industry, no matter your role, technology and automation work to reduce the impact of your mundane day-to-day tasks and create more opportunities for workers to learn more, expand their potential, and find fulfillment in their role.