At SeedSpark, we start each day with three questions: what are we doing, why are we doing it, and how can we do better? We're always on the hunt for new tools and innovative resources that can help make a bad situation good, a good solution great, and a great enhancement incredible.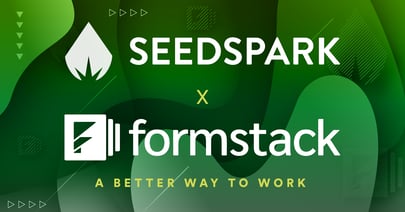 That's when we met Formstack, a workplace productivity platform built to produce ingenious solutions to the everyday work that slows down the work that organizations around the world do each day. Founded in 2006, Formstack began with a core belief that "there has to be a better way." From capturing data to automating repetitive work, Formstack had a vision of a solution that didn't require special skills or advanced coding, but instead was completely accessible.
Now, 15 years later, Formstack has grown into a team of more than 250 employees across the globe, now serving more than 27,000 organizations ranging from the smallest startups to Fortune 500 companies.
SeedSpark believes that technology is more than a tool - it's a strategy.
For our Application Development team, this idea is brought to life in every project. Finding a problem, creating a strategy, and launching a solution custom-fitted to each team's unique situation is our passion. When our team discovered Formstack, an idea became a call that then became a collaboration. Now, it's a partnership.
Formstack is launching their Microsoft integrations, connecting their data capturing solutions with the entire Microsoft software suite. While SeedSpark's Application Development integrates Microsoft into foundational business applications, our Managed Services team works with companies across the country to integrate Microsoft's productivity suite – including OneDrive, Teams, SharePoint, and the entirety of Office 365 – into their everyday work routines.
Formstack and SeedSpark are working together to integrate and innovate, building dynamic forms into applications that continually sync with each client's cloud-based data catalog. In short, this means focusing less on the data itself and more on the business intelligence that it provides to help direct decisions, better serve clients, and empower leaders to shape the future of their industry.
SeedSpark X Formstack: A Better Way to Work
Our team is going to be celebrating our new partnership with Formstack throughout February, all coming together on Thursday, March 4 at 3:00pm EST with our live event - SeedSpark X Formstack: A Better Way to Work! We'll be sharing more about our teams, explaining the power of Formstack's new Microsoft integrations, and digging into the true value of how our partnership will impact your daily life.
We'll have much more to share on our new partnership with Formstack! Follow our social feeds and subscribe to our mailing list to make sure you never miss the latest from our ever-evolving team at SeedSpark!