Did you know that it takes the average person 23 minutes and 15 seconds to regain focus after a distraction? From texts and social media messages to phone calls and impromptu meetings, we're constantly fighting wave after wave of distractions threatening our mental focus. Thankfully, Microsoft has followed in Apple's footsteps with Windows 11, baking in a slew of new features that not only improve productivity, but that also help keep your focus completely dialed in. You'll be distraction-free in no time with these four game-changing tools baked into Microsoft's newest OS.
---
Aero Shake in Windows 11
From a clean desktop in the morning to a growing stack of open programs in the afternoon, our work can take on a life of its own throughout the day until it eventually dominates every corner of your desktop! If you find yourself feeling overwhelmed by the amount of work on your screen, Microsoft's Aero Shake feature is a quick way to minimize every window except for the one that you're currently working in. Just grab a window and shake it - and voila, you're distraction-free!
Focus Assist in Windows 11
Our tech can be a great productivity tool, but it can also bring plenty of distractions that hold us back from accomplishing our work. Windows 11's Focus assist helps cut out the noisy notifications that dig at your attention, silencing calls and messages to help you spend more time actually getting work done. Focus assist is available within the clock app and can be set to automatically run when plugged into a specific monitor, during specific times and days, or when viewing Windows in a specific mode like full screen.
Snap Layouts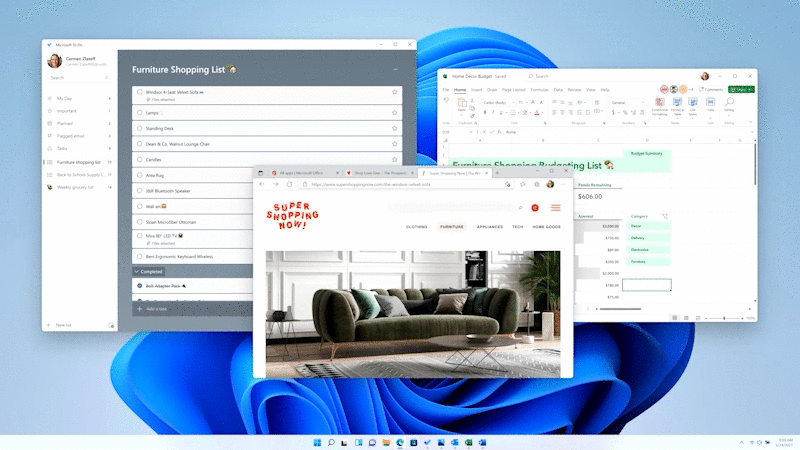 Having a mountain of open windows can be intimidating and bring distractions throughout the day. While Snap Layouts are primarily talked about in the productivity context, this simple layout of windows and programs can be a great way to make sure you've got the right information at your fingertips exactly when you need it. From crunching monthly reports to writing papers, snap layouts keep your most important programs front and center across your desktop.
Virtual Desktops
No matter what line of work you're in, there's a high likelihood that you're wearing multiple hats. From managing multiple accounts to juggling multiple jobs, Windows 11's Virtual Desktops are an easy way to segment your professional life and ensure that you're always giving your current project the attention that it deserves. Opening a new Virtual Desktop starts a new instance of Windows, creating a clean desktop that functions as if you'd freshly restarted your computer. Whether you're bouncing back and forth between roles or looking for a deeper separation between your personal and professional life, Virtual Desktops in Windows 11 are a great way to segment your work and ensure that you're giving each project your all.
SeedSpark is one of Charlotte's best technology partners for small businesses. As a Microsoft Silver Partner, we work with businesses to plan their ultimate technology strategy, delivering solutions that meet today's needs while preparing them for tomorrow. Our 24/7 support ensures that you're completely covered by a our team of industry leaders and technology professionals. Contact our team today for a free technology assessment, digging into the technology that you have today to identify what's holding you back and find new ways to push your business forward.